A uniquely American art form, jazz is the root of many music genres we enjoy today. Its influences reach beyond performance and into the visual arts, inspiring new ideas and styles. Jazz It Up! looks at the enduring impact of this important form of artistic expression on contemporary art as well as the celebrated musicians, who have become significant icons in American popular culture.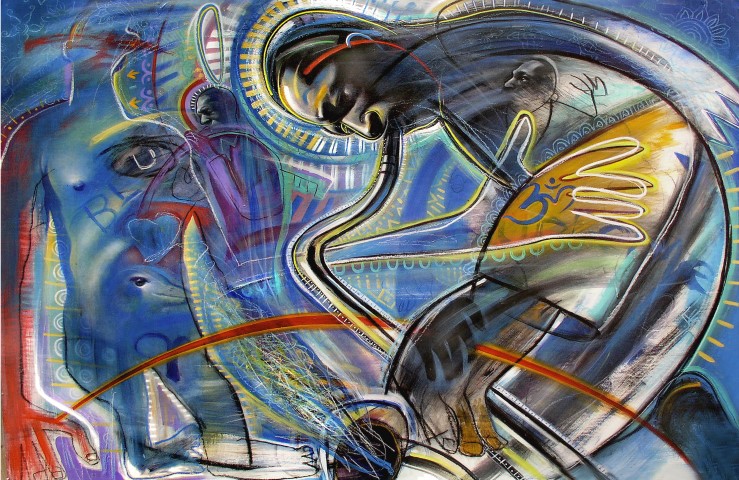 Rudy Gutierrez, Coltrane Blue, 2008, Acrylic on board, 30 X 40 inches.


Curatorial Spotlight: Rudy Gutierrez
Part of the Jazz It Up! exhibition, this bonus feature highlights the bold paintings of New York artist Rudy Gutierrez. Incorporating a variety of cross-cultural references, Gutierrez uses vivid colors and broad-brush strokes to dynamically capture the energy of his subjects.
Opening Reception: Friday, Sept 14th, 2018 (6-11pm)
Season Kick-Off: Get Jazzed Festival on Mesa Arts Center campus
Musical Entertainment by Blaise Lantana and Dennis Rowland with Jesse McGuire in Mesa Contemporary Arts Museum Courtyard
Exhibiting Artists in Attendance
Cash Bar
FREE and OPEN to the Public!
John Armstrong
Lynne Avril
Ronald Beverly
Larry Poncho Brown
Tato Caraveo
Michael A. Cummings
Nazario Graziano
Rudy Gutierrez
Juliette Hemingway
Wilson Mclean
Dean Mitchell
Terrance Osborne
Jim S. Smoote II
Fred Tieken
James Gilbert Todd, Jr.
Victoria Topping