Featuring the celebrated Tucson artist Daniel Martin Diaz, Paradise Lost is Diaz's visual interpretation inspired by John Milton's epic poem of the same name. This new series is comprised of ten drawings that allegorically illustrate the "Fall of Man" and "War in Heaven" in contemporary times. Diaz derives his "Old World" style and mystical imagery from a variety of sources, including Byzantine iconography, retablos, ex votos, the Illuminati, ephemera, alchemy, scientific diagrams, and 16th century anatomical engravings.
LIMITED EDITION DANIEL MARTIN DIAZ RELIEF PRINTS AVAILABLE FOR PURCHASE:

This limited edition relief print was produced by Daniel Martin Diaz and printed by Santo Press exclusively for Mesa Contemporary Arts Museum to accompany Diaz's museum exhibition Paradise Lost.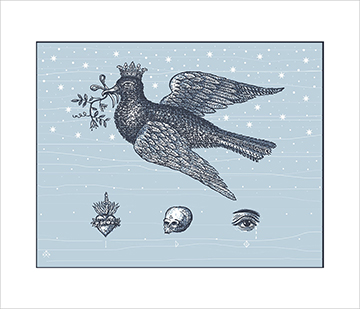 Title: The Messenger
Date: 2016
Medium: Multi-plate photopolymer and laser engraving on Somerset Satin white, 25 gsm, 100% cotton
Image Size: 11 x 14"
Paper size: 15 x 17.5"
Limited edition of fifty numbered prints
Price: $200 each
(Shipping: $15 US; $25 international)

To purchase, call 480-644-6562 or email Mesacontemporaryarts@MesaAZ.gov.

Proceeds from the print sale support Mesa Contemporary Arts Museum education and exhibition programs.