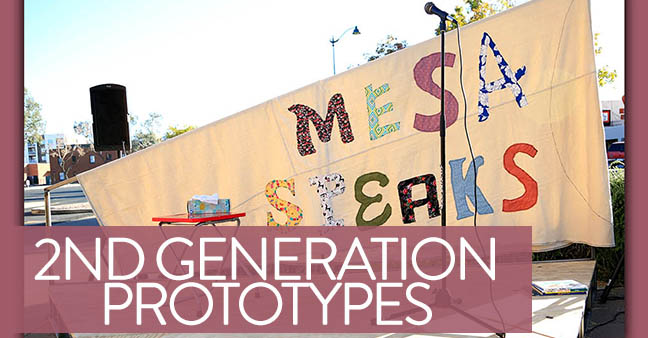 DREAM DESIGN DISCOVER
Mesa Prototyping Project
2nd Generation Prototypes
February 15-April 15, 2019
Embark on a playful journey of discovery in Downtown Mesa. Explore new prototypes, and while you're here, make music with friends at Mesa Arts Center's Musical Shadows, play a tune on a street piano and have fun along the way! Download the Mesa Prototyping Project map, here.
Prototyping invites the community to dream and design solutions to make our neighborhoods more vibrant and exciting!
Use #mesaprototyping when taking and posting photos and videos of you interacting with our prototypes and workshops!
Mega M.E.S.S.A.
Prototypers: Jaime Glasser in partnership with Heatsync Labs
Description: Create spiral designs in a bed of sand on this one-of-a-kind rotating design table!
The MEGA M.E.S.S.A. (Mobile Enormous Spiral Sand Art) is the 2nd Generation of an interactive spiral drawing machine. It has hidden rotating tables that turn magnets that drive big steel balls around in a bed of time glass sand-like beads. This prototype is driven by a big red wheel, just waiting for you to play! The bed is surrounded by addressable LED lights with infinite color variations. As this prototype is experimented with, the light patterns and effects will change.
Contributors: Jaime Glasser, Lead Artist and Design; Chris Spaseff, engineering and fabrication; Gabriel Finke, lead assistant and Neo Pixel Design and Programming; Luis Montes, interaction; Travis Cady assembly and design; Milton Williams, design and support; David Flores design and support; Ann Rishell, graphics; Andrew Crawford, fabrication support;
Nicole Santer, assembly support; Mel Adamaitis, support.
CarTunes Playground
Prototypers: Dobson Montessori School, Trevor Woodford
Description: Each piece of this drum circle installment is a playable car part! Tires covered with Jeep windows create bass drums, mufflers become snare drums, rims and hubcaps become cymbals, and radiator hoses become drum sticks. The truck box houses a car themed soundtrack. Press the button and play along to "Little Deuce Coupe," "Hot Rod Lincoln," "Little Red Corvette," and more! With or without the pre-recorded music, the circular arrangement of the "instruments" invites passers-by to take part in a communal jam session experience. Special thanks to Dobson Montessori School for helping to develop and test the original prototype, and to NYM Creations for the welding and metalwork expertise.
Inter_PLAY
Prototypers: ASU INT 465 STUDIO, Faculty includes Zingoni, Ayers and Delasotta
Description: Experiment with different pods that encourage play in a variety of ways, including sound, perspective, discovery and reflection.